Welcome back! Lets make 2022-23 an amazing year.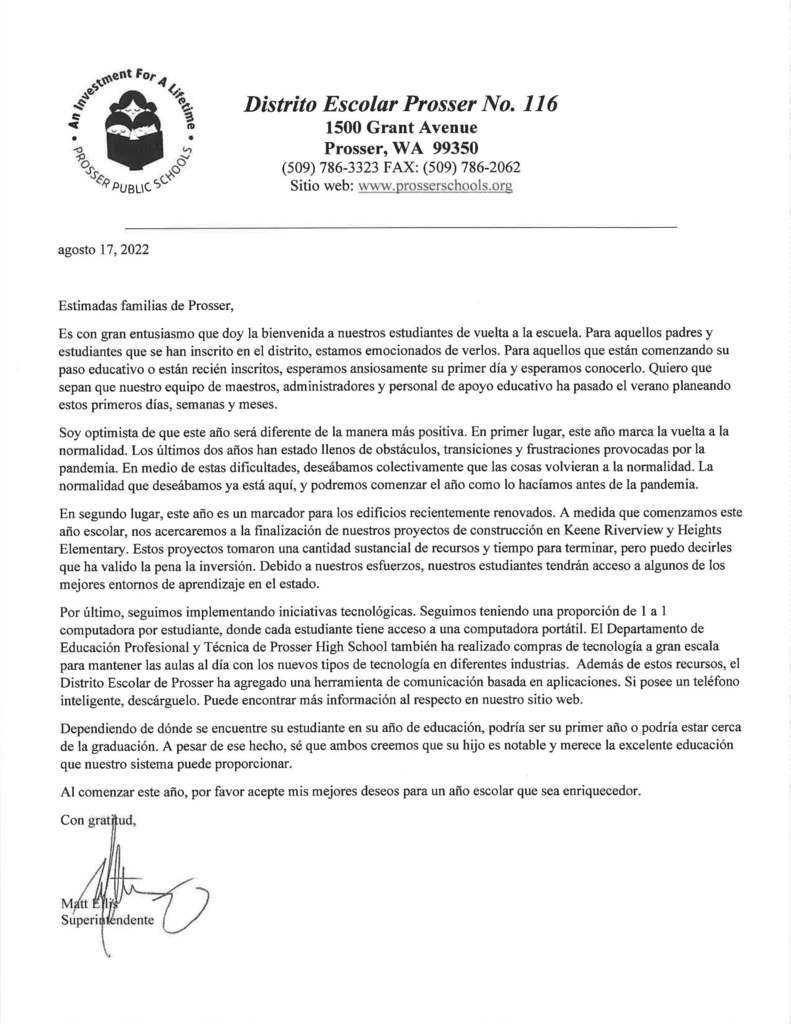 Due to a bus driver shortage, students on route 5, 10 and 12 will have a different route time and number. Please contact the transportation office at 509-786-2630 if you have any questions.

Attention Kinder Parents! Kindergarten letters will be mailed this week from KRV and Whitstran. You will likely receive an electronic copy of the letter first. Kinder students and parents will have a scheduled teacher conference one of the first three days of school (August 30, 31 or September 1). The first day of school for kindergarten is September 2nd. Back to School Night is August 29th at 5:00 pm at KRV and 6:00 pm at Whitstran. We are excited to welcome you to school!

Prosser School District Offices will be closed on Friday, July 29th and Monday, August 1st for a network upgrade. Offices will reopen on Tuesday, August 2nd.

The following information was shared with us to pass along. These organizations/businesses have offered their locations as cooling centers for this week's heat wave. Princess Theatre As of today, the Princess will be available as a Cooling Center from noon-8 pm, Monday, July 25 - Sunday, July 31. AC, restrooms, water fountains and ice will be available. The Green Room at the Princess Theatre will be the Cooling Center location every day except Thursday, due to the American Red Cross Blood Drive taking place in the Green Room, hosted by Benton REA. On Thursday, the Theatre auditorium will be the Cooling Center. We will not require masks for the Cooling Center, though disposable masks and hand sanitizer are available. Anyone participating in the Blood Drive _is_ required to wear a face mask. The Cooling Center duties will be in addition to the FREE activities we already had scheduled Tues-Wed this week, including Bean-A-Palooza at 11 am on Tuesday, free movies at 10 am and 7 pm on Wednesday, and the Blood Drive on Thursday. Prosser Library Open: Monday, Tuesday, Wednesday from 11 a.m. to 7:00 p.m. Thursday & Friday from 10:00 a.m. to 6:00 p.m. Saturday, from 10:00 a.m. to 3:00 p.m. Becky's Coffee Corner Open: Monday – Friday, 7:00 a.m. to 5:00 p.m., Note: people are welcome to come cool off, with a Red Solo Glass of ice water (no lids or straws).

On August 2nd, 2022 from 5:00 - 9:00 pm, the Prosser Thrive Coalition in partnership with Prosser Parks and Recreation, the City of Prosser, Historic Downtown Prosser, the Prosser Police Department, West Benton Fire Rescue and Benton County Sheriffs Office will be hosting their first ever community wide National Night Out event. This event is made possible by Prosser Parks and Recreation, Prosser Memorial Health, Leprekon Foods, Benton REA and the Community Law Enforcement Partnership Grant. National Night Out is designed to enhance the relationship between neighbors and law enforcement while bringing back a true sense of community. Furthermore, it provides a great opportunity to bring police and neighbors together under positive circumstances! During the evening free hot dogs and pizza will be offered as well as offering activities for engagement with our local law enforcement and fire department. At this time Prosser Thrive Coalition not only invite each of you to attend the event but to also invite friends, family and co-workers! Attached is their flyer in both English and Spanish to be shared through social media posts, email and word of mouth!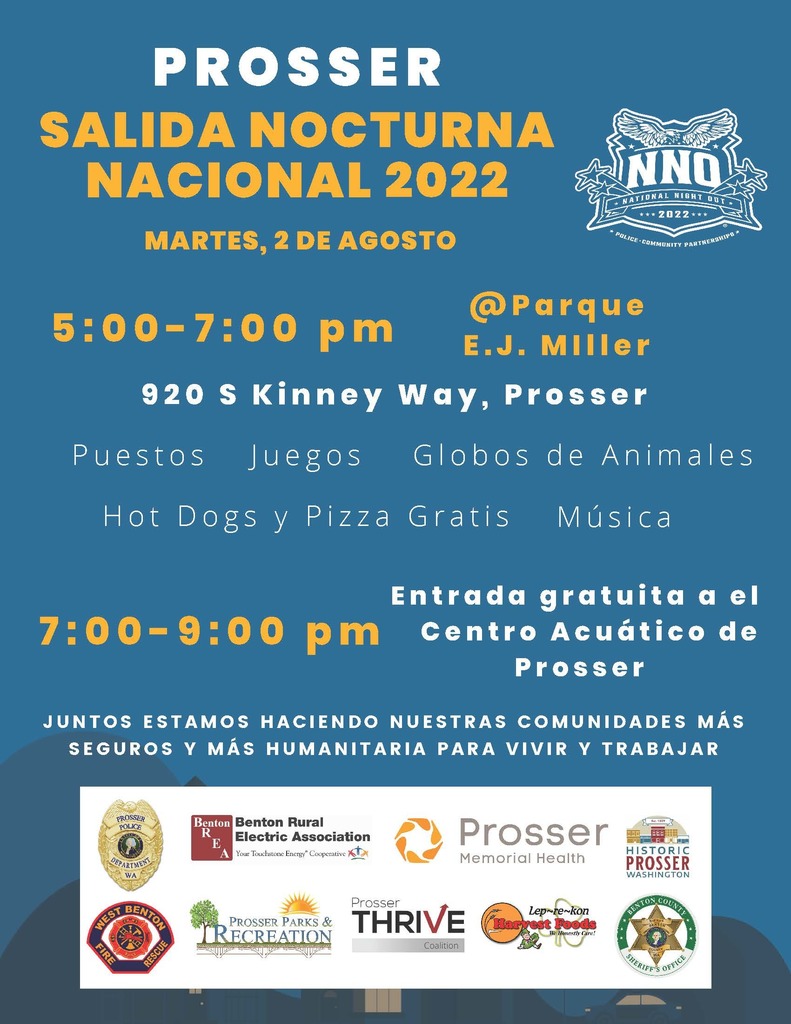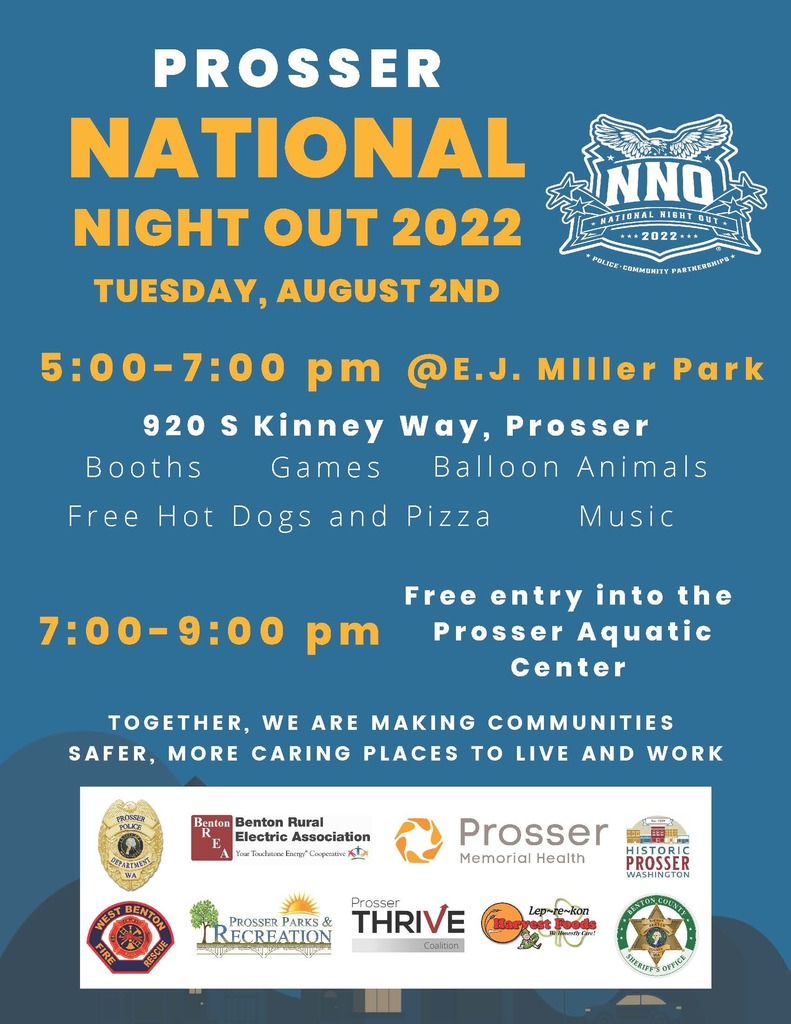 News Release from the Department of Health - 988 Suicide and Crisis Lifeline Launch Marks Washington's first phase of building understanding, hope and a path forward for those in need. 988 is the new, nationwide, three-digit dialing code for the Suicide and Crisis Lifeline. The 988 dialing code connects people via call, text, or chat, to the existing National Suicide Prevention Lifeline (NSPL) where compassionate, accessible care and support are available for anyone experiencing mental health-related distress. 988 is the newest addition to the state's network of crisis center providers and will not replace any crisis call centers in Washington. The current NSPL number, 1-800-273-TALK (8255), will remain active along with the new 988 dialing code. For more information: English -
https://5il.co/1eeia
Spanish -
https://5il.co/1eei9

Are you looking for the PSD K-5 school supply list for the 2023 School Year? You can find a PDF copy to print here: English -
https://5il.co/1dbso
Spanish -
https://5il.co/1dbsp
Heights Office will reopen Aug 17th. KRV Office will reopen Aug 10th. Whitstran Office (Located at 1203 Prosser Ave) will reopen Aug 8th. Enjoy your summer!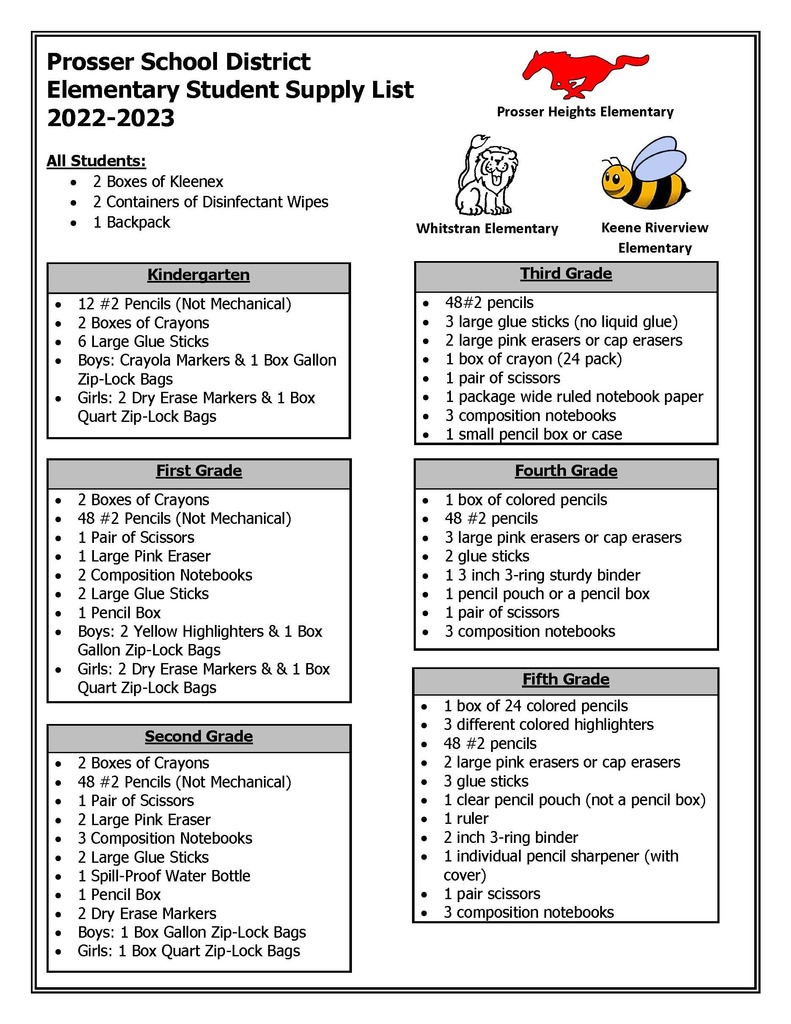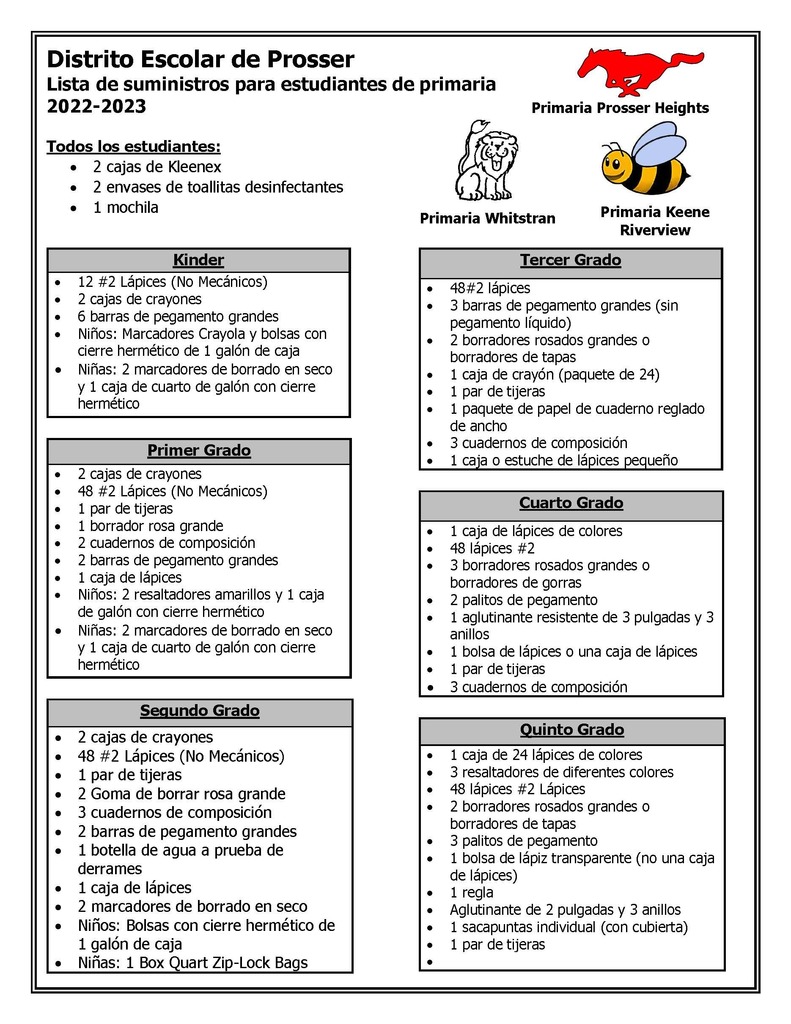 No School on Monday July 4th, 2022. Happy 4th of July!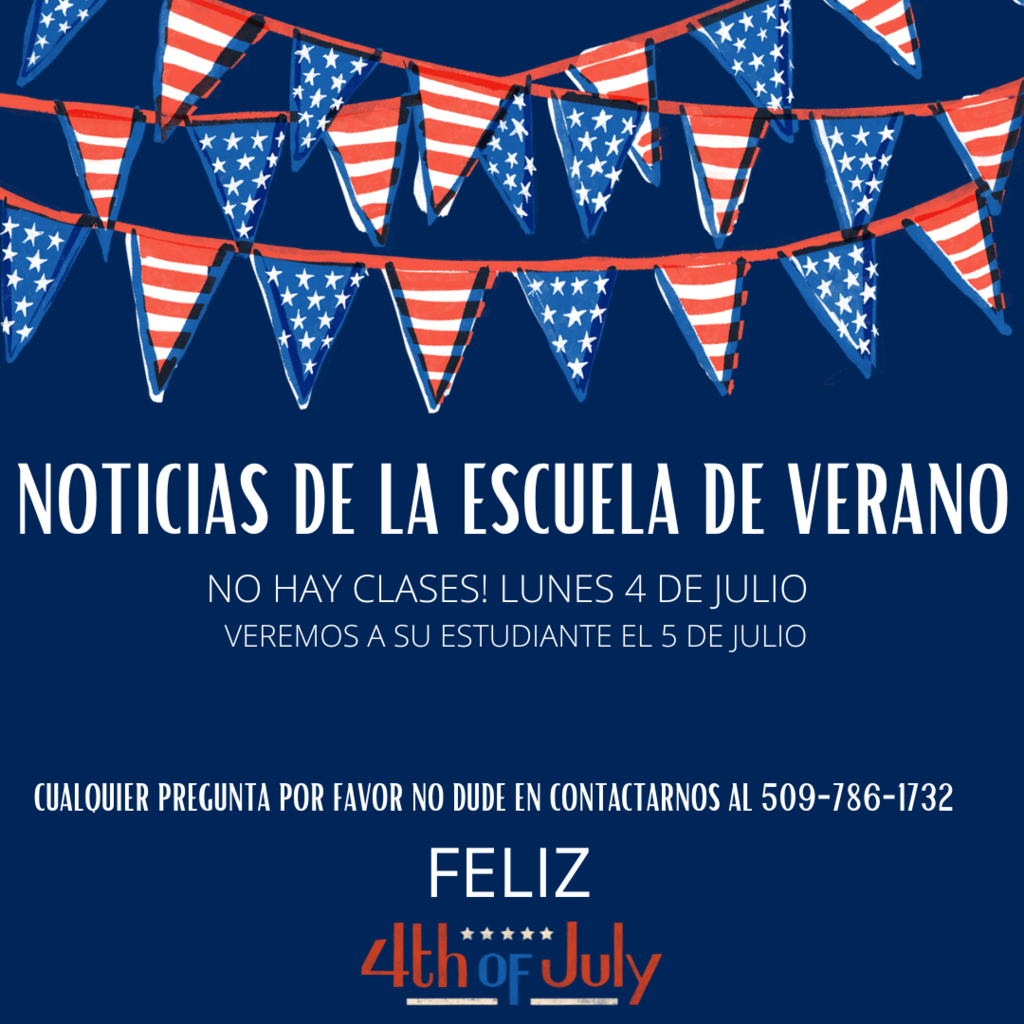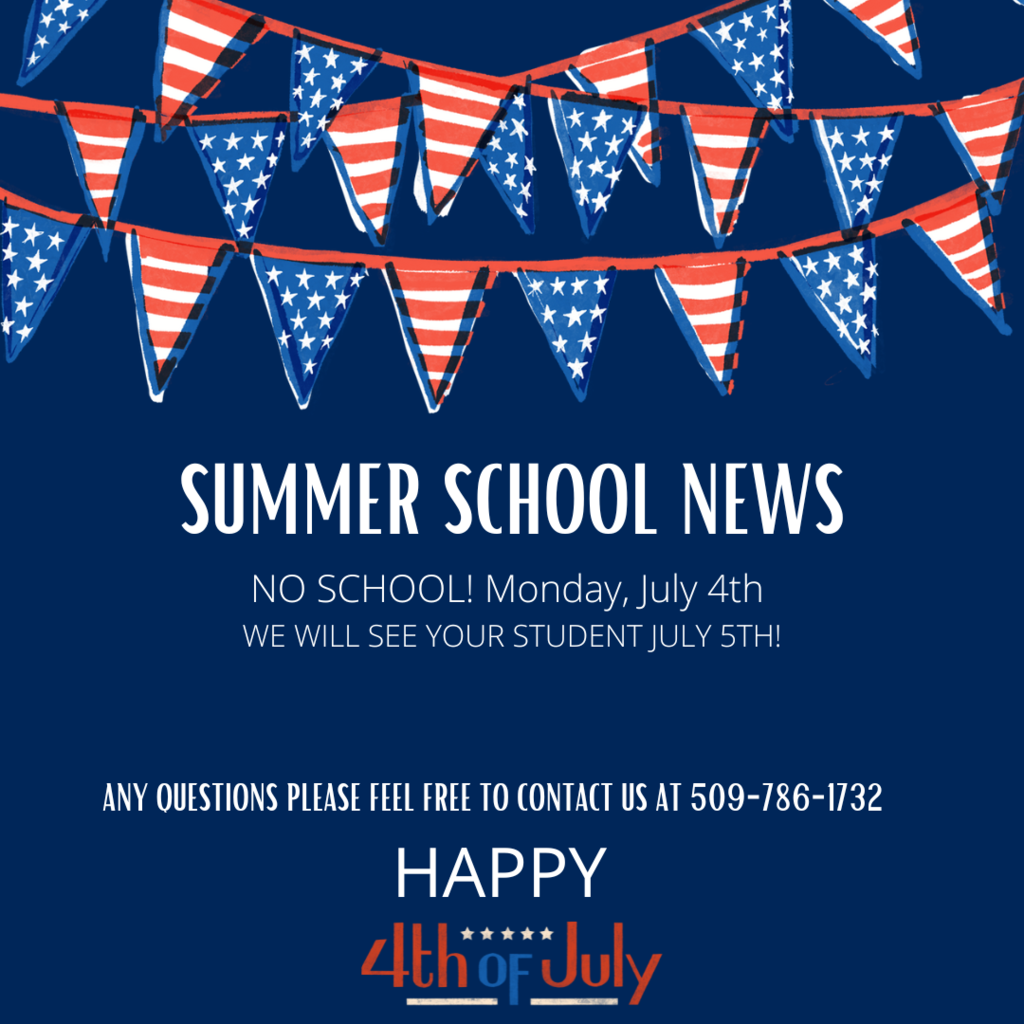 Are you unable to attend graduation in person? Tune in to send the seniors off as they go on to their next phase! Watching graduation is easy by following these simple steps to create a FREE account: 1. Go to
https://www.nfhsnetwork.com/users/sign_up
2. Type in your name, email address, and a password 3. On *insert graduation date/time* search for Prosser High School in the search bar. 4. Enjoy the show! You need to sign up, but the ceremony does not have a charge. If you have an account, search for Prosser High School, Wa. Join us in celebrating our seniors!

NEWS RELEASE: LOCAL STUDENT SELECTED FOR INTERNSHIP AT THE UNIVERSITY OF TEXAS TO ANALYZE NASA EARTH SCIENCE DATA Hannah Norris, a student from Prosser High School in Prosser, Washington has been selected for the prestigious Student Enhancement in Earth and Space Science (SEES) summer internship to be held at The University of Texas at Austin's Center for Space Research. Students will work with scientists and engineers to conduct authentic research from data received from NASA's earth observing satellites as well as designing Mars habitats, Lunar Exploration, and analysis of images from the International Space Station. This nationally competitive program sponsored by NASA's Texas Space Grant Consortium selects students who will increase their knowledge of science, technology, engineering, and math through earth and space education. SEES is a collaborative effort of Texas Space Grant Consortium members and affiliates, NASA, and The University of Texas at Austin's Center for Space Research. Students apply for SEES and are selected competitively. The internships are organized around an aerospace or space science theme drawn from NASA's diverse engineering and scientific research programs. The program combines the strengths of collaborators to enrich teaching and learning of STEM. Almost 1100 applications were received for the coveted 92 on-site internship positions. Students work remotely with their project scientist prior to the on-site internship. During the two weeks the students will work at UT/CSR, they will conduct hands-on activities, field investigations, attend presentations by NASA scientists and engineers, and work on various NASA missions. Earth is a complex, dynamic system we do not yet fully understand. The Earth system, like the human body, comprises diverse components that interact in complex ways. We strive to understand the Earth's atmosphere, lithosphere, hydrosphere, cryosphere, and biosphere as a single connected system. Our planet is changing on all spatial and temporal scales. The purpose of NASA's Earth science program is to develop a scientific understanding of Earth's system and its response to natural or human-induced changes, and to improve prediction of climate, weather, and natural hazards. Students selected will come together July 16 in Austin, Texas to conduct experiments, tour facilities, network with other students, and conduct research while being mentored by NASA subject matter experts at The University of Texas at Austin. The SEES internship proves that the excitement students feel about space science is a critical step in enriching science, math, engineering, and technology. The internship will provide students the rare – and for most, unique - opportunity to spend two weeks working with professional scientists and engineers at the cutting edge of space exploration. SEES is funded through NASA's Cooperative Agreement Notice NNH15ZDA004C.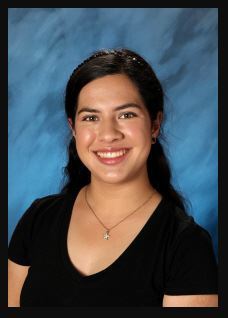 A HUGE thanks to the Prosser Community for the overwhelming support of the Scholastic Book Fair. The record-setting sales were amazing but seeing the smiles on the faces of children and adults alike was the most rewarding. Words cannot express the support you gave the libraries of the Prosser School District. Your patience with the technical glitches was appreciated. Thank you for your support and enjoy the books you purchased. Gratefully, Ruth Zediker, Rebecca Hulse, Nikki Dunkin and Jackie Hickam The Elementary Libraries of the Prosser School District

The PSD is offering an HMS STEM, Arts, Cooking, and Design Summer Enrichment Program. Please use the attached link or QR code to register your student. Detailed information is included in the link.
https://tinyurl.com/hmssummerenrichment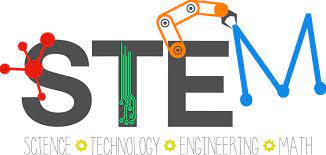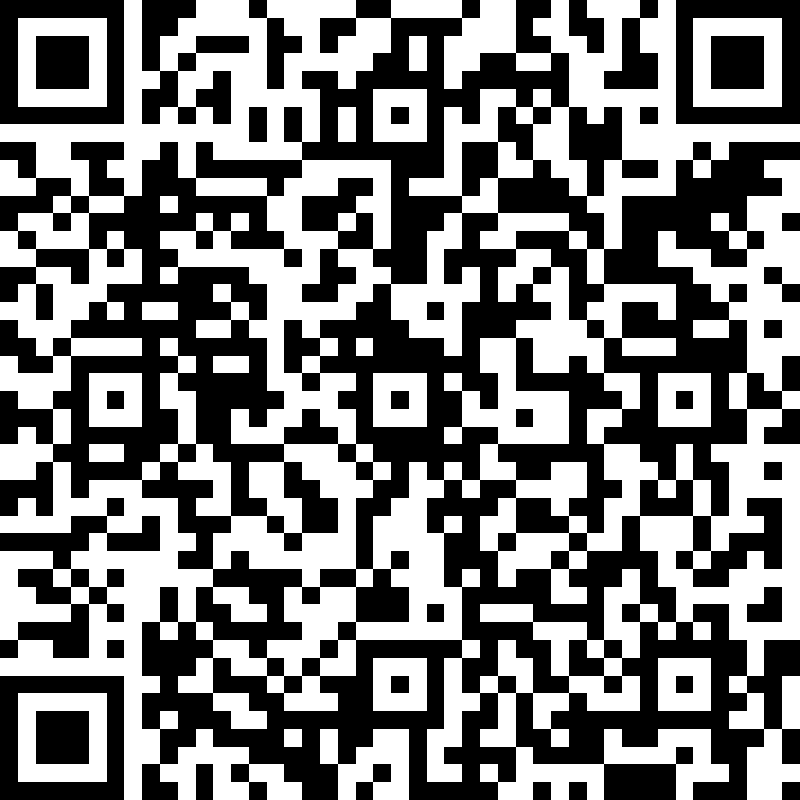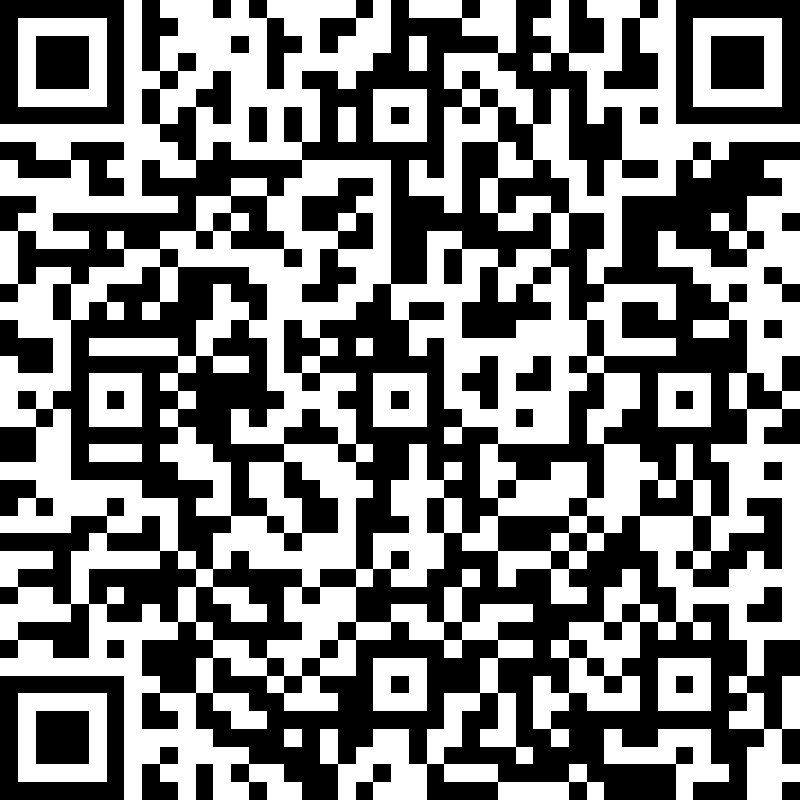 Dear Patrons: Today, April 18, Heights Elementary will be engaging in a Science unit involving professionals from the Washington State Patrol Bomb Squad. All safety precautions are being followed and the safety of our students, staff, and neighbors continues to be our highest priority. We want to thank you for being understanding and wanted to inform you that the presence of these professionals on our campus was a scheduled event. Thanks, Matt Ellis
We are so proud of our students and the great work that they do. We know that this does not happen by accident and want to thank our parents and educators for all of their support. Congrats to NHD, the "Honey and Lavender" production, Boys Swim, Girls Basketball, Band, Cheer, and FCCLA. Go Mustangs!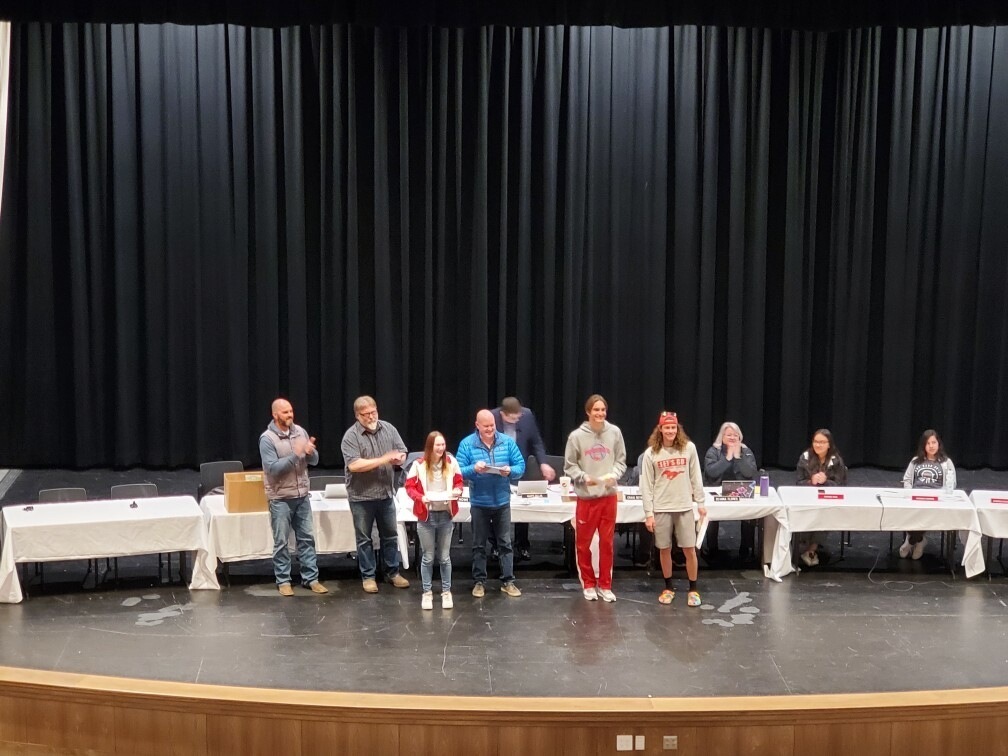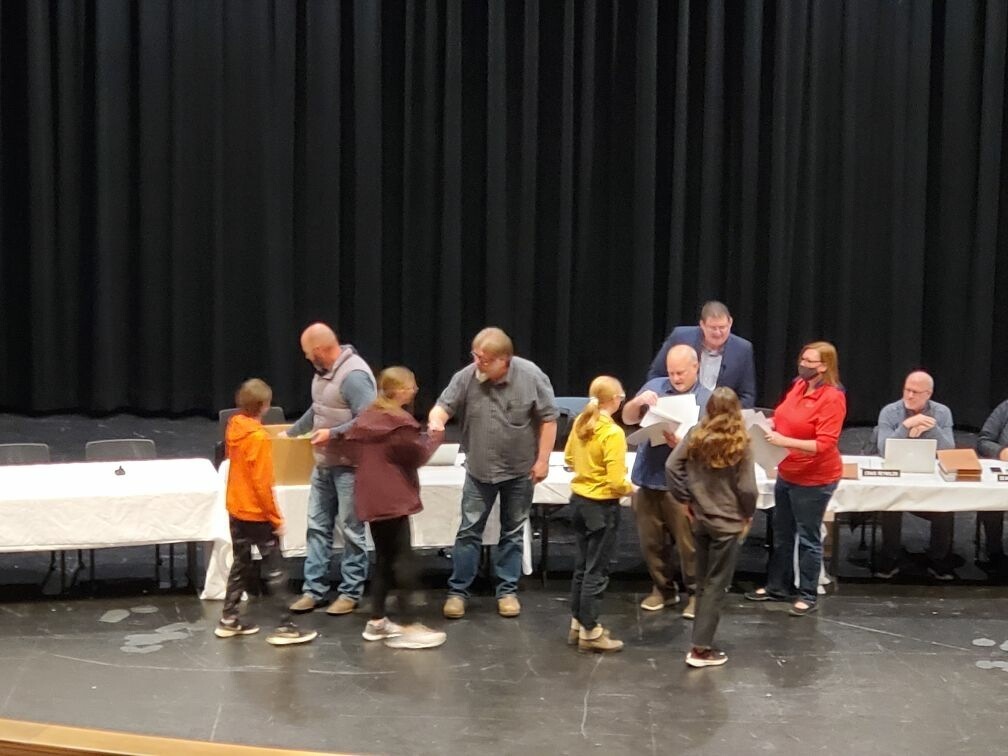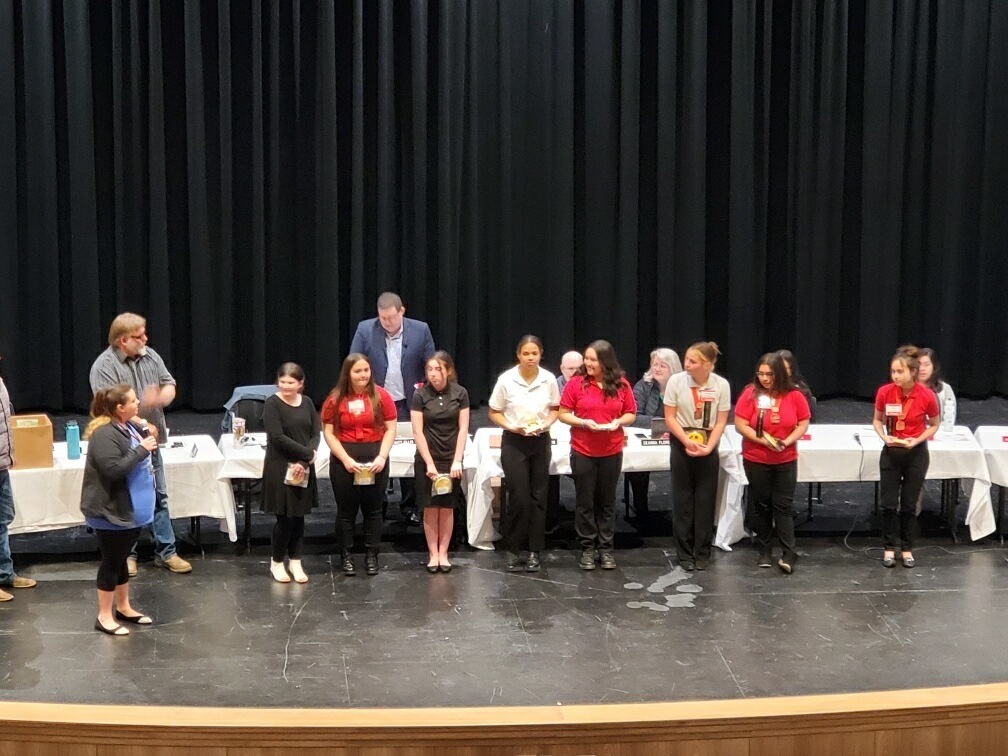 Hidden In Plain Sight - April 25th, 2022 The teen years can be difficult. Indicators of teen drug use, mental health concerns, unhealthy relationships, human trafficking and other risk factors can be hidden in plain sight, but easy for parents and other adults to miss. Join us to learn about current trends, how to recognize common warning signs and how to talk to youth about these important issues. See the linked flyers for more information on this event: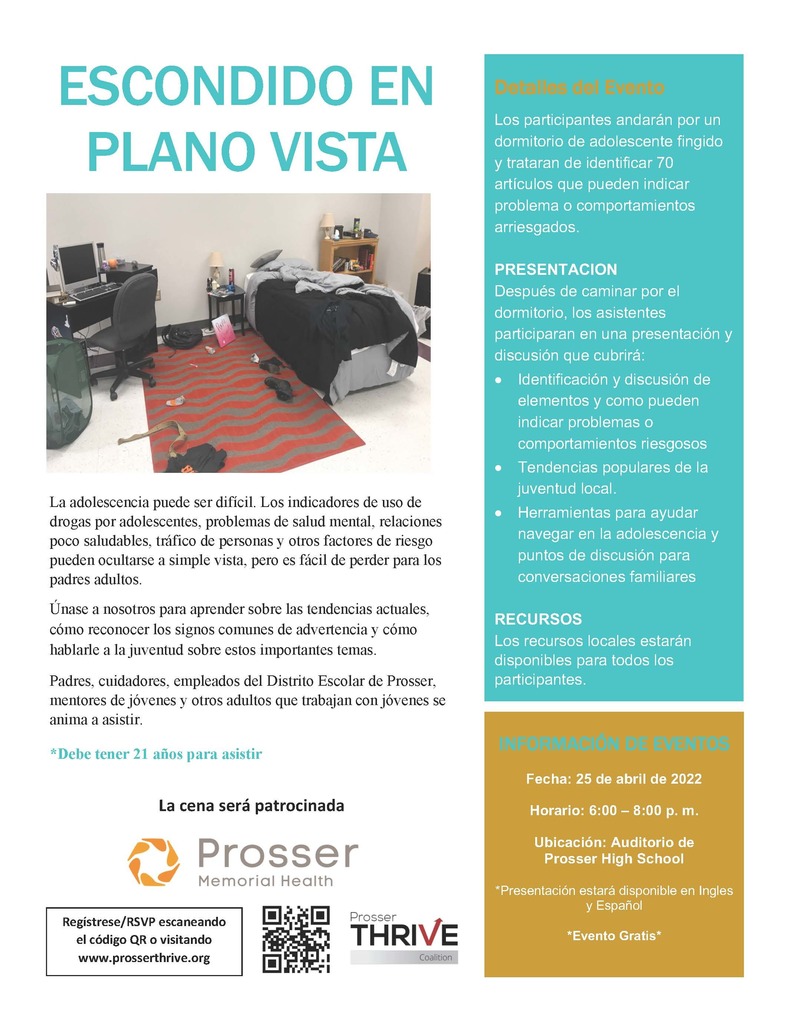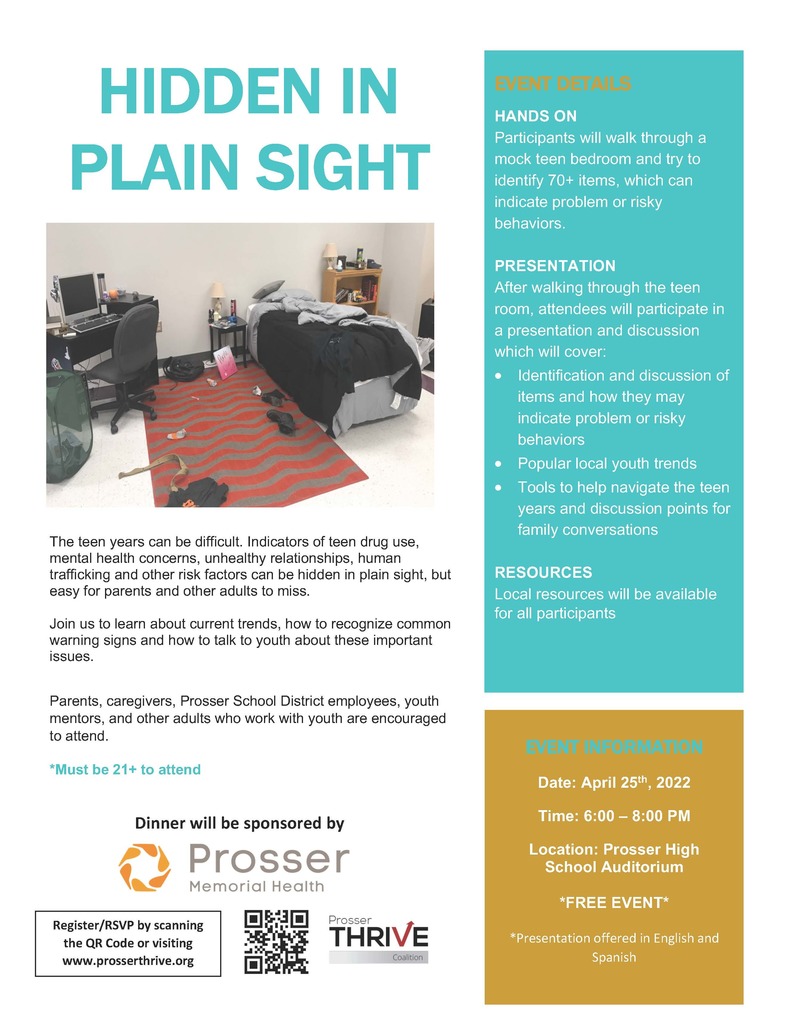 Dear Parents and Guardians, Today we have experienced a power outage at our schools. This was unexpected and unforeseen. As a result of this event, we will be closing school early. We will be sending our busses around to our schools to pick up students at 10:00 a.m. We want you to know you always have the option to pick your student up in person. Thank you for being understanding in this process, If you have any questions, please contact the district office at 509-786-3323 Matt Ellis Superintendent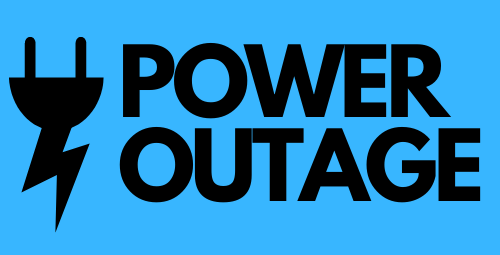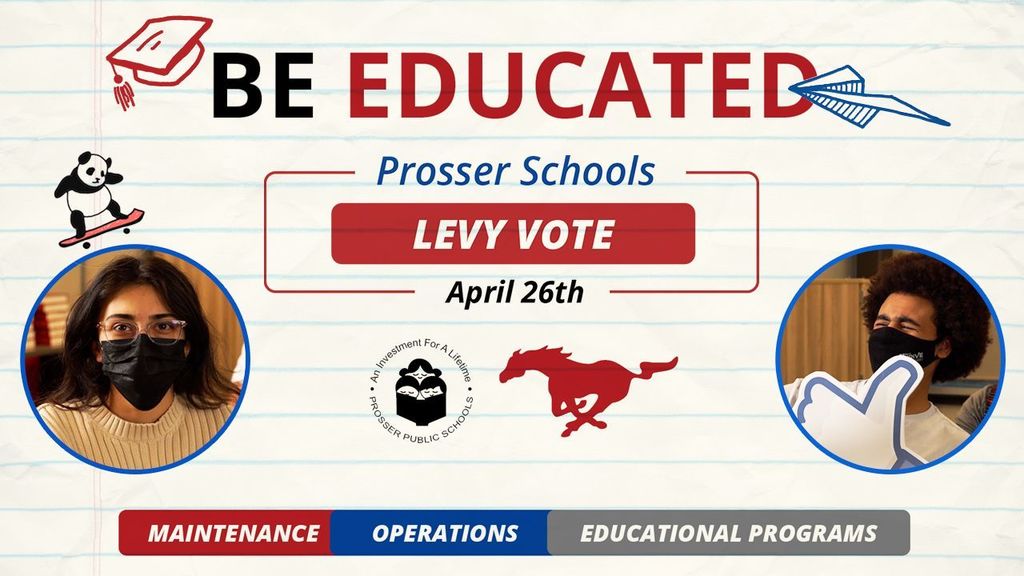 The Prosser School District has updated its school calendar for this school year to account for two days missed in January due to weather. The changes are as follows: May 27, 2022 - Full school day (formerly a snow day) June 10, 2022 - Full school day (formerly a half-day) June 13, 2022 - Half school day and the last day of school (formerly no school) Please contact your child's school if you have any questions.